---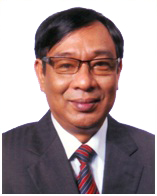 General Secretary
(Bangladesh Karate Federation)
Mr. Kaw Shaw Hla was born on December 25th, 1963, in the Amtali Para of Roangsari in Bandarban. Currently, he resides in Ujani Para of Bandarban Sadar. His father was the late Mr. Mayong Master, and his mother was Mrs. Wangpaikhwy. He has two sons and a daughter. He began his schooling at Donbosco Government Primary School in Bandarban city and passed his SSC exam from Sripur Harandwip High School in 1982 and his HSC from Imam Gajjali College of Rangunia in 1984.

Mr. Kaw Shaw Hla is involved in various sports, social, and cultural activities. He was the founding president of the Egal Sporting Club and Judo & Karate Club in Bandarban Sadar and Royal Shilpi Goshti. He is also a member of the District Sports Association in Bandarban and former Vice-President of the Bangladesh Karate Federation. Additionally, he holds the positions of Co-Chairman (Development and Research) of the Federation of Chamber of Commerce and Industries (FBCCI), President of the Chamber of Commerce in Bandarban, Chairman of the Editors Panel of Daily Sangu, and Chairman of Egal Wood Limited in Bandarban. He is also the Co-Chairman of the Center for Human Development and Bandarban University.

For his contributions to society, Mr. Kaw Shaw Hla has received several awards, including the Plantation Award in 2001, a special award presented by the Prime Minister, the Manab Seba Award by Dharitri Bangladesh in 2012 for his humanitarian work, and the Bangladesh Red Crescent Award 2014 presented by the Red Crescent Society for his humanitarian efforts.

Mr. Kaw Shaw Hla has also served in various political positions. He was the President of Bandarban Jela Shessa sebok League and a member of the Bandarban Hill District Council from August 5, 2000 to February 16, 2002. He served as the President of the Bandarban District Awami League and has held the role of Chairman of the Bandarban Hill District Council from August 11, 2000 to February 16, 2002, from May 25, 2009 to March 25, 2015, and from March 25, 2015 to December 13, 2020, and continues to serve in this role.